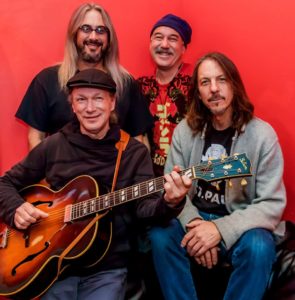 ALOHA Friends! We are thrilled to announce a Hawaii tour March 23-25, featuring SK&F with Kimock, Jeff Chimenti, Bobby Vega, and Wally Ingram.
Come join us March 23-24 at the Blue Note Hawaii on Waikiki Beach and Saturday, March 25th at the Honoka'a Peoples Theater on the Big Island!
For more details > http://www.kimock.com/2017/hawaii-tour-2017/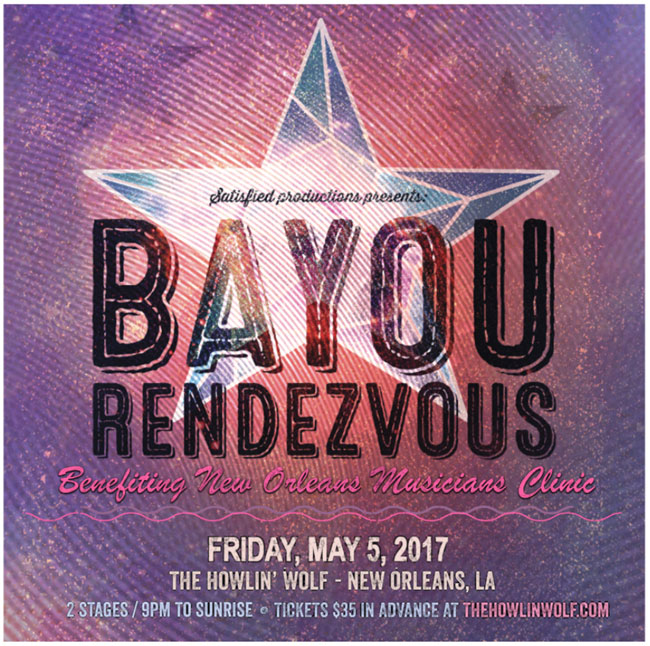 Satisfied Productions presents
15th Annual Bayou Rendezvous
Benefiting the New Orleans Musicians Clinic
Friday, May 5, 2017
The Howlin' Wolf – New Orleans, LA
9 Bands on 2 Stages
9PM – 8AM
Doors: 8PM
Show: 9PM
2017 Artist Line Up:
Dr. Klaw featuring the Shady Horns
The Bayou Rendezvous All-Stars
Orgone
Monophonics
Eric Struthers and Friends
Space and Harmony
Lebo and Friends
Sophistafunk
Sunrise Breakfast Jam
Schedule of Events:
Main Room
9 PM
Monophonics
featuring special guests
11:30 PM
The Bayou Rendezvous All-Stars
Johnny Vidacovich (Astral Project), Ivan Neville (Dumpstaphunk), Oteil Burbridge (Dead and Co./Allman Brothers), Stanton Moore (Galactic) & Eric McFadden (P-Funk/Anders Osborne)
1:30AM
Dr. Klaw
featuring The Shady Horns
Eric Krasno (Soulive/Lettuce), Nick Daniels III (Dumpstaphunk/Neville Brothers), Nigel Hall (Lettuce), Ian Neville (Dumpstaphunk), Alan Evans (Soulive/KDTU), Ryan Zoidis (Lettuce/Shady Horns), Rashawn Ross (Dave Mathews/Shady Horns)
3:30 AM
Orgone
Cinco de Mono Late Night Dance Party featuring Monophonics and special guests
Den Stage
10PM
Eric Struthers and Friends
featuring:
Eric Struthers (Dr. John/Neville Brothers), Roland Guerin (Dr. John/Allan Toussaint), Herlin Riley (Dr. John/Wynton Marsalis), Leon "Kid Chocolate" Brown (Dr. John/Irvin Mayfield) and Joe Ashlar (Good Enough for Good Times/Eddie Roberts)
12AM
Space and Harmony
Bill Daniel (Naughty Professor), George Gekas (The Revivalists), Rob Ingraham (The Revivalists), Sam Shahin (Naughty Professor)
2AM
Sophistafunk
Multi-Genre Tour de Force from Syracuse, NY
4AM
Lebo and Friends
featuring:
Dan Lebowitz (ALO, Steve Kimock), Steve Adams (ALO, Nicki Bluhm), Stu Allen (JGB Band, Phil Lesh), Jay Lane (Ratdog, Primus)
6AM
Sunrise Breakfast Jam
featuring
The Norcal All-Stars with
Derek Booker (Tracorum),Erin Cassidy (Lonesome Locomotive), Lynn Michael Palmer (The Nibblers) + More
Artists at Large
Wally Ingram (Steve Kimock, Stockholm Syndrome)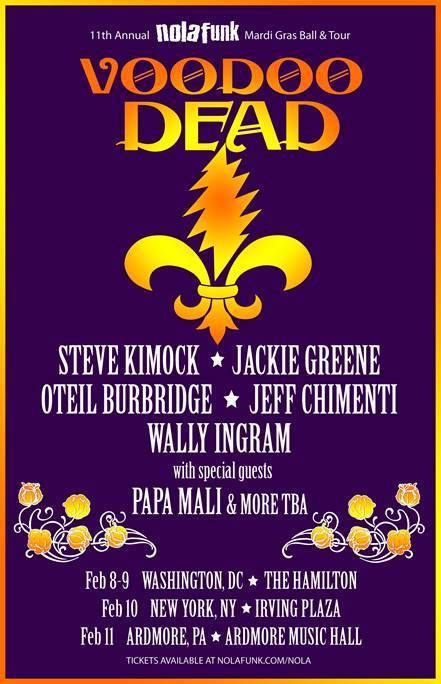 Voodoo Dead! Tickets are on sale this week for Voodoo Dead in February! Jackie will be joining Steve Kimock, Jeff Chimenti, Oteil Burbridge, Wally Ingram, Papa Mali, and more TBA!
Feb 8-9, Washington DC @ The Hamilton
Feb 10, New York @ Irving Plaza
Feb 11-12, Ardmore, PA @ Ardmore Music Hall
Pre-sales begin tomorrow! Sign up for the emailers at http://www.nolafunk.com/ and http://www.cegpresents.com/ to be sent the exclusive presale access code.
For the 11th consecutive year, NYC-based promoters CEG and Nolafunk honor the spirit and music of New Orleans with their 11th Annual Nolafunk Mardi Gras Ball & Tour. The four shows will feature Voodoo Dead, a band that has only ever performed in New Orleans as part of Jazz Fest late-nights in 2015 and 2016. This particular lineup features an unprecedented artist lineup with Steve Kimock [RatDog, Rhythm Devils], Jackie Greene [Black Crowes, Phil & Friends], Oteil Burbridge [Dead & Co, Allman Bros.], Jeff Chimenti [Dead & Co, Furthur, The Dead], Wally Ingram [Sheryl Crow Band, Timbuk 3], plus special guest New Orleans-based Papa Mali of 7 Walkers. A New Orleans brass band will be announced soon as the opening act.
The mini-tour will feature stops at The Hamilton in Washington D.C. for two nights (February 8th – 9th), then Irving Plaza in New York City (February 10th), and the Ardmore Music Hall just outside Philadelphia (February 11th.) More special guests will be announced in coming weeks to round out this extraordinary bill to celebrate the music of The Grateful Dead and more, with a New Orleans twist.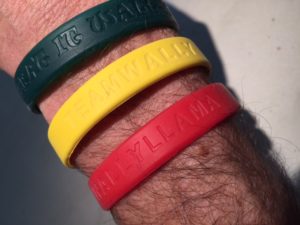 10 years ago today I completed my final rounds of radiation and chemo therapy! I have been in bonus time ever since and cherish my time on this Earth and would like to acknowledge that without my wife Laurie and my daughter Lydia(just 9 months old when I was diagnosed) I most certainly would not have had the will to fight like I did. My mom and dad, Dotty and Walt and my sister's Jill and Peg and their families as well as Laurie's mother Delores and all of her sibling's and their families were instrumental in helping us to get through this tough year. I would like to acknowledge and thank Sheryl Crow for giving us her beautiful Craftsman guest house to live in during the treatments and allowing for us to have room for visiting family that took shifts helping us. There are way too many people to thank for this one post! In the coming days/weeks I would like to dive in deeper with this… Some amazing and inspirational events were put together on my behalf… Beat it Wally benefit organized by Butch Vig with help from Jackson Browne, Tom Cambell, Tad Wadhams and an All-Star line up of talent and friends! Also, Benefits in San Juan Capistrano at the Coach House(Tom Fitzgerald), SF at the Independent(An Army of Bay Area friends and Musicians!) and Boise Idaho(Scott Herbert). Paula O'Rourke for creating and managing "Beat it Wally", "Team Wally" and "Wally LLAMA" Red, Gold and Green bracelets. Thank You! Thank You! Thank You to all contributed their support and prayers!
Today I would like to give thanks to all of my Doctors, and all of my loving and supportive family and friends who were in the trenches far and near during my battle with Stage 4 Squamous cell head and neck cancer. We Beat it together!! THANK YOU!!
BIG LOVE!
Wally